Switzerland Monday 3rd of August.
The United Nations Committee Against Torture (CAT) explicitly criticised the surgery on intersex children that still takes place in Swiss hospitals and clinics. The criticism referred to earlier reports from CAT, CEDAW (The Convention on the Elimination of all Forms of Discrimination Against Women), the Special Rapporteur on Torture and the CRC (Convention on the Rights of the Child) which recently included Intersex Genital Mutilation (IGM) as a one of a range of harmful practices.
The Concluding Observations of the Committee against Torture concerning Switzerland are due on the 14th of August 2015. Genital Autonomy and StopIGM.org are hoping for a powerful statement in the Concluding Observations condemning IGM practices.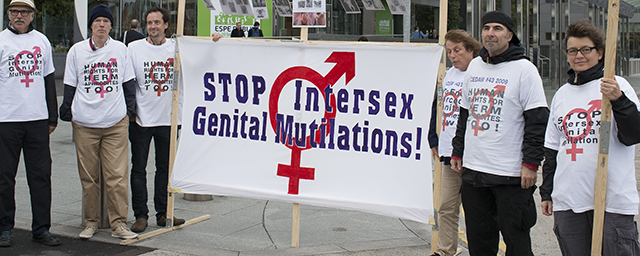 Photo – Dublin Sept 2014